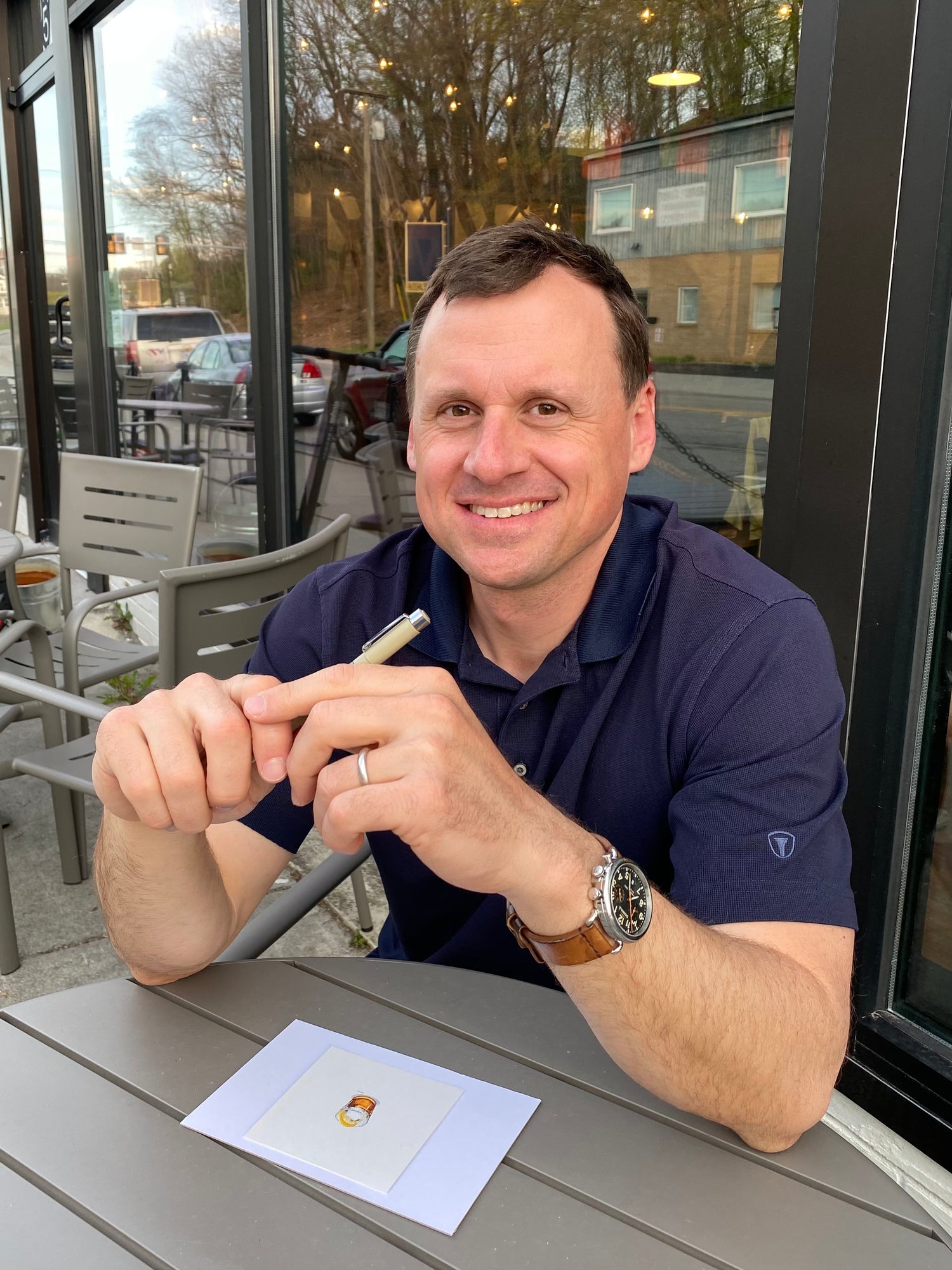 My Tiny Story
Combining endless curiosity with an eye for detail, I create miniature art using a .15mm pen nib and minimalist canvases. Often drawing inside only an inch or two, I'm inspired by the challenge of creating more with less. Hand-drawn with no magnification or eyeglasses, my miniatures demonstrate how constraints can enhance creativity.
Lacking formal art training, my journey as an artist has been as unexpected as could be. At 37 years old, I discovered drawing as a creative outlet during my career as an instructor and adviser at Vanderbilt University. Following my own advice to students to be lifelong learners, I began honing my craft at the breakfast table after being intrigued by a miniature drawing prompt on social media.
Before long, my miniatures began showing from Middle America to Manhattan and finding their way into private collections around the globe. Always up for interesting collaborations, I've partnered with brands such as Jo-Ann Stores, Monopoly/Hasbro, BLICK Art Materials, Sakura of America, Canson, Strathmore, and General Pencil.
An Ole Miss graduate from Mississippi, I now reside with my family in Southwest Virginia's New River Valley.
Awards
2023 Featured Festival Artist, Double Decker Art Festival, Oxford, MS
2023 Honorable Mention, 4 Bridges Arts Festival, Chattanooga, TN
2023 Runner-up in Drawing & Graphics, ESAC Outdoor Art Show, Fairhope, AL
2023 Award of Distinction, IMAGES: A Festival of the Arts, New Smyrna Beach, FL
2023 Best Booth, Athfest, Athens, GA
2023 Runner-up Best in 2D, Art at the Market, Blacksburg, VA
2022 Best in Show, Decatur Arts Festival, Atlanta, GA
2022 Award of Excellence, Tephra Fine Arts Festival (Northern VA Fine Arts Festival), Reston, VA
2022 Best in 2D, Carmel International Arts Festival, Carmel, IN
2022 Runner-up Best in Show, Sidewalk Art Show, Roanoke, VA
2022 President's Award, Crozet Arts & Crafts Festival, Crozet, VA
2022 People's Choice Award, Spring Jubilee, Pendleton, SC
2022 Runner-up Best in Show, Spring Jubilee, Pendleton, SC
2022 Runner-up Best in 2D, Art at the Market, Blacksburg, VA
2021 Sand Dollar Award, Boardwalk Art Show, Virginia Beach, VA
2021 Award of Merit, Neptune Festival, Virginia Beach, VA